"Words Matter," Remembrance Message Now on "Stronger than Hate" T-Shirt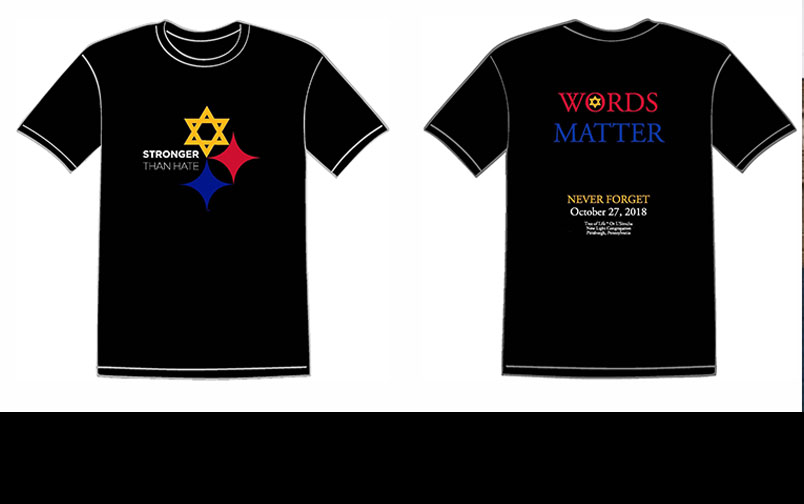 Thousands of people are displaying "Stronger than Hate" posters, t-shirts, buttons and yard signs. New Light Congregation, one of the three congregations which lost members on October 27, 2018, is taking the popular "Stronger than Hate" t-shirt and giving it more meaning, with proceeds benefiting the congregation and victims of the tragedy.
In January, 2019, our congregation introduced the new t-shirt while visiting with members of the Mother Emmanuel A.M.E. Church in Charleston, SC, the site of the 2015 mass shooting, as we marched with them at their Martin Luther King, Jr. parade.
As time passes and grieving continues among families, friends and neighbors, two important messages are being added to the extremely popular t-shirts that aim to reflect the community's steely resolve to triumph over hate. The officially licensed black t-shirt features the modified Pittsburgh Steelers logo on the front and the message "Words Matter – Never Forget" with the date and the names of the affected congregations on the back.
This specific t-shirt was created by Stephen Cohen, Co-President of New Light Congregation. He says, "It is my experience that words precede action. We can only be stronger than hate when we take responsibility for the words we say and write. We must stand together against the hate speech that triggered the mass shooting at Tree of Life. We must stand together against anti-Semitism. We must stand together against all hate speech. Our losses must never be forgotten, and the messages on this t-shirt will teach and remind us all."
Cohen notes, "For weeks prior to October 27th, many news outlets reported that the caravan of migrants from Honduras was an invasion of the United States funded by a Jew, George Soros and organized by a Jewish organization, HIAS (founded as the Hebrew Immigrant Aid Society); that it was a Jewish plot to invade the United States.
"WORDS MATTER. When the public constantly receives hate messages on line, on air and in print, some people feel it is their duty to do something."
"The shooter's last post said it all: 'HIAS likes to bring invaders that kill our people. I can't sit by and watch my people get slaughtered. Screw your optics, I'm going in.'" The new t-shirt is now available online at https://stronger-than-hate-shirt.com/, or at https://www.newlightcongregation.org/. Two shirts – a softer material premium fitted shirt and an extra heavy cotton classic fit t-shirt, are available in sizes from Small to 3XL; price varies by size starting at $20, with a $2.00 handling fee plus shipping.